Fr. Matthew Ramsay
Pastor
Fr. Matthew was ordained in 2011 and began serving at St. Anne's parish in 2015. Before coming to St. Anne's, he served at St. Philip Neri parish in Saskatoon, and was pastor of the parishes of Kerrobert, Luseland, Dodsland, and Major in western Saskatchewan. Fr. Matthew is excited to be part of this community with its moving liturgies, active ministries and lively schools.
Fr. Matthew has one brother, three sisters, and two nephews. He enjoys music, travel, rooting for the Riders, and finding ways to help the church reach out to the world with the message and mercy of Christ.
Erin Hickey
Communications and Office Coordinator
Erin's faith came alive for her in university, and she has strived to serve Jesus and the Church in some capacity since then. She earned a Bachelor of Arts Degree in Religious Studies at the U of S and worked as a missionary with Catholic Christian Outreach for 5 years before having children. Over the years of being a stay-at-home-mom, Erin was the leader of several faith initiatives for her children and the community. She is excited to now be the Communications and Office Coordinator for St. Anne's Parish.
Erin is married to Tom and is the mother to four great kids. She loves to travel, play cards and board games, listen to music, and drink a really a good mojito.  She loves being at the lake or going for nature walks, and she relishes time spent with friends and family. Reading books written to enliven her faith, teach her about the Catholic Church, and how to grow in leadership is something she values and considers time well spent. Erin loves people and longs for them to know and love Jesus.
Colm Leyne
Coordinator of Youth Ministry
Colm joined the team after being involved in youth ministry for over 17 years, including a decade as Coordinator of Youth Ministry for the Diocese of Saskatoon. His office coordinates our efforts to inspire youth in grades 6 to 12 to embrace the faith and live it courageously! This is done primarily through calling forth the gifts of adult leaders and equipping them to mentor and accompany young peoples, as well as ministering to students in our Catholic schools. He dreams of visiting all major Marian shrines, and for all young people to go on a mission and pilgrimage by the age of 25.
Colm married Sharon in 2009 and is father to Jacinta, Ezra, and baby due in December 2019! He's a massive sports fan, especially of the Montreal Canadians. Downtime is usually spent with family, sports, or reading a good book. He's rumoured to have collected sticks as a kid.
Daniel Pettipas
Coordinator of Evangelization and Adult Faith Formation
dpettipas@rcdos.ca
Call or text: (306) 803-5777
Daniel received a B.A. in Religion and Culture from St. Thomas More before joining the St. Anne's staff team, for his first time, in 2011 as Youth Ministry Coordinator. Daniel then went to study Theology at the Toronto School of Theology where he met his wife Sarah. Daniel and Sarah returned to Saskatoon after they married, and in 2017 Daniel became the Evangelization and Adult Faith Formation Coordinator at St. Anne's. Daniel and Sarah then moved to London Ontario, with their son Owen and baby Ethan. Daniel served as Disciple Formation Team Lead at a local Catholic parish there before feeling called by the Lord to move back to Saskatchewan to resume his role at St. Anne's as Evangelization and Adult Faith Formation Coordinator. Daniel is passionate about growing parishioners into passionate parish leaders through dynamic relational ministry and empowering the whole parish community to take up the mission of Jesus Christ to make disciples of all nations, starting with our little corner of North Saskatoon.
On his free time, you will also find Daniel playing a lot of board games. He even has his own YouTube channel all about board games called Punchboard Party. He also loves watching WWE and wrestling with his two boys Owen and Ethan. After that you can find Daniel curled up on the coach with a good book, either churchy or fantasy, it depends on the day.
Patti Pasloski
Coordinator of Children's Ministry
Patti has a teaching degree from the University of Saskatchewan. In the past many years she has had a few professions such as investigator for the federal government, project manager for a construction company, administrative assistant for the union of federal workers, and of course teacher. She began to work at Saint Anne's in 2013, where she coordinates ministry for parishioners aged three to grade five. Patti visits our five elementary schools, teaches sacramental preparation, organizes programs and events for children, and works to make St. Anne's a welcoming and exciting place for children and families. Patti loves the time she gets to spend in the many classrooms of the elementary schools in the St. Anne's neighborhood teaching the children about God's great love for us all.
Patti is married, has four grown children, four grandchildren, 7 siblings, and a Mom and Dad both in their middle 90s.
Ken Neitz
Coordinator of Music Ministry
Ken has been involved in music ministry at Saint Anne's Parish in various capacities since 1988. He has been serving as Music Coordinator for the parish and director and accompanist for the 5:00 choir since 1999. Ken helps to facilitate the over ninety musicians that make Saint Anne's music ministry rich and diverse.  
Ken works as a school counsellor during the day. He  grew up on a ranch in southwest Saskatchewan, and has lived in Saskatoon since beginning University when he was 18. Music ministry is a passion for Ken. He is actively involved in music ministry not only at Saint Anne's Parish but also in the city of Saskatoon. He has served as the organist for the Saskatoon Diocesan Choir since 1995.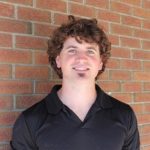 Daniel Fahlman
Caretaker
Daniel is the Caretaker of Saint Anne's Parish. He is responsible for keeping the church, hall, and grounds in good order. He works with the staff, volunteers, and other parishioners to coordinate the set-up of events, technical support with various ministries, repairs of all kinds, and other miscellaneous needs of the church.
Daniel grew up in Prince Albert where he was homeschooled along with his four brothers and two sisters. He moved to Saskatoon in 2012 and worked as a hot tub technician and later at a property maintenance business before starting at Saint Anne's Parish. In late 2016 Daniel married his beautiful wife, Sarah, and they are excited to grow their new family in the community and make Saint Anne's their parish home.
Trina Ward
Coordinator of Children's Ministry
Trina is a military brat who moved to Saskatoon and joined St. Anne's Parish in 1995, after falling in love at first sound with our wonderful music ministry. She has spent the last twenty years engaged in as many ministries as time allowed, and can assure you that our ministries and parishioners are truly Christ-centered and abounding with love. After many years as a dedicated stay at home mom, Trina decided to put her BA and Early Childhood Education Diploma to use here as the Children's Ministry Coordinator. She currently coordinates RCIC, Kids4Christ and Children's Liturgy, and is delighted to be Auntie Trina for our parish children.  
Trina married Mr. Handsome at St. Anne's in 1997 and has three beautiful children. She is blessed to have her mom, brother and sister-in-law and five nieces and nephews in the parish as well. She loves children and the young-at-heart, has a passion for social justice, and hopes to be an author, to learn the tango and to snuggle grandbabies. She believes JOY – Jesus first, serving others with love and compassion, giving thanks for the precious gift of your life –  is the path we are called to follow.